'Twas the night before Christmas…and your wishlist sucked. To make sure this doesn't happen to you this year, we put together a list of the 25 most practical (?) Christmas wishes of all time. If you don't celebrate Christmas, it's okay. Only one of us does anyway.
1. Mandatory study guides for finals
Remember study guides? We don't. The key to everyone passing high school has been stripped by many of our professors. Please bring them back. Please.
2. An actual idea of what is going on in the world
Yeah, we're Brown students. We're socially aware or whatever. We dabble in the New York Times. But life on College Hill can be so consuming that it's easy to forget that the real world exists. Well, it does.
3. Unlimited ciabatta rolls
"Sorry, we're out of ciabatta. Do you want a french roll?"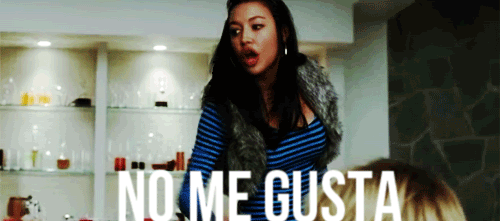 4. Easy locks on our mailboxes
Confession: I still don't know how to open my mailbox. I have trouble with locks. I hope nothing important's in there.
5. SN/C-o-meter
Let's paint a picture for you: it's the first few weeks of the semester, you think a class is going to be easy, so you decide, hey, why not, I'll take it for a grade. Then you have six midterms on which the teacher refuses to give out anything but C's. And that other class you thought was going to be super hard–you're killin' it. Except you opted to take it SN/C in September. I guess there's always S with distinction?
How wonderful would it be if there was a device that had the foresight that you just don't have?
6. Functional Wi-Fi
'Nuff said.
7. A biopic with Meryl Streep as Hillary Clinton
8. A focus-inducing, anti-procrastination pill
Think about how much more productive you'd be if there was a simple pill that stopped your procrastination and made you insanely focused. Oh wait…
9. A College Hill restaurant that stays open later than 2 a.m. 
No offense to Rhode Island law, but this is a stupid one. There are approximately one million Brown students craving something greasy and cheap from the hours of 2-5 a.m. Loui's is great, but ain't nobody got time for that.
10. A designated sexile room
Sexiling is natural. You don't want to scorn your roommate for gettin' some, but at the same time, you have a date with sleep. What if there was a room full of beds for all those who have been sexiled for the night? We're looking at you, ResLife.
11. An alarm clock that will actually get you to class on time
This one already exists. Nanda Home created an ingenious alarm clock that rolls around your room until you turn it off. Maybe you'll actually attend two 9 a.m. classes next semester! Perfect stocking stuffer.
12. Beyonce for Spring Weekend
Tell us we're wrong. We dare you.
13. Coat rooms at every party
The time has passed when you can forego a coat for style's sake. It's brick city out there but it's also hard to look cute under that puffy North Face jacket. Give us coat rooms or give us death!
14. Critical review for TAs
Choosing a TA based on looks may have seemed like a good idea at first–until you realize the TA has been to less classes than you have.
15. A good third season of Girls
Once upon a time, Girls was funny, relevant and incredible. Then it got sad.
16. Optimal Blue Room sandwich retrieval app
It's after 4 p.m. You can now use a meal credit at the Blue Room. You get out of class and all you want is a sandy but your class is far from Faunce. Aha! You whip out your handy-dandy app, which tells you how many people are in line. You make your decision accordingly.
17. Online catalogue of all the study spaces at Brown
Every Brown student is constantly in search for the perfect study space. Why not make that easier?
18. A Chicken Finger Friday delivery service
For people who have class. (And/or live in Keeney. Hay!)
19. Money for booze (or the green version)
It's not like we need money for anything else…
20. A pocket-sized Genius Bar
We all have a love/hate relationship with our overpriced Apple products. They're great–but are they? Not when my computer freezes every other minute and my phone deletes everything I need. At least with your pocket-sized Genius Bar you don't have to scour the campus for Computer Science concentrators. They're always in the Sun Lab anyway.
21. La-Z-Boys in all classrooms
Comfort is a key part of education.
22. No shame when you like a bad song
Sorry not sorry. #timber
23. An answer to what the fuck happened at the end of The Sopranos
Just both still wondering about this.
24. A reserved booth in the Blue Room
As we write this from the Underground, we are forced to wonder what it would be like if we were Blue Room VIPs. After all, a booth is the hottest commodity on campus.
25. A sense of direction
This wish is double-pronged. One, what if your iPhone dies and you can no longer depend on Google Maps? Two, what if your dreams die and you can no longer depend on being a writer for the rest of your life?