There are certain etiquette rules essential to being a good roommate: Respect each other's belongings, keep the space clean, don't crash into the room at 2 a.m. when they're sleeping and wake them up — you know, the basics. For many, however, the basics aren't as expansive as they should be. Today's major issue: Many roommates don't bring up sex while discussing their "terms of agreement," if you will.
Which is a problem, because you need a space to have sex, and, unless you're the more adventurous sort, that space is typically going to be your room.
Which raises the question: How do you talk to your roommate about your sex life?
First things first: Let your roommate know when you're hooking up in the room. It can be as easy as a quick text, and it may save you —and your partner — from a very awkward encounter. Not only that, but do you really want to be interrupted in the middle of hooking up?
Of course you don't! So, let's circumvent this issue by just letting our roommates know the room is occupied. I've made this mistake a few times, and I can't say I'm a fan of frantically scrambling for a sheet when I hear my doorknob turning.
Notifying your roommate covers the basics, but this isn't just your room. Though I personally want to make my bedroom a sex den sometimes, I realize that I can't hoard a shared space. Whenever possible, let your roommate know ahead of time, just to make sure that they're not en route to the room for something important. Being locked out of the room when you need something isn't fun, and being inconsiderate of your roommate's schedule can put a strain on your relationship with them. And I'm betting you don't want your roommate to feel like this about you: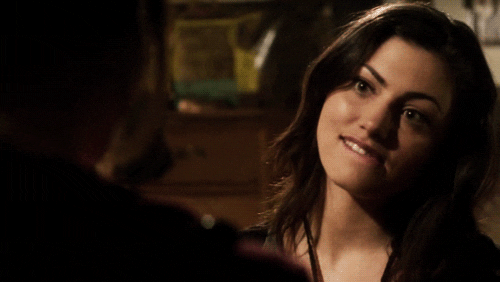 For further guidance, here's an example of a conversation between myself and my roommate. I'm the grey, as you might guess:
If you're not as unabashedly forward as I can be about needing the room for sex, whether it's to respect your own comfort levels or your roommate's, you can take the subtle route, like my boyfriend (in blue) and his roommate (sorry to those of you dying to know where his roommate was at):
I'd like to think my boyfriend and I strike a solid balance between respecting our roommates' time and sticking to our preferred sex schedule, and a large part of it has to do with our roommates' being mature, cool people about our sex lives and our relationships. To maintain this admittedly awesome dynamic, all I have to do is respect my roommate's time and requests as they respect mine.
Which, yeah, occasionally means I don't ask for the room because I know their schedule well enough to know I shouldn't have a quickie when they're returning to the room soon, and I shouldn't try to kick them out when they're tired and enjoying a space that is just as much theirs as it is mine. Sometimes, this just means my boyfriend and I need to take the shower sex route instead of the traditional bed, but it's not like I'm complaining.