The study spaces at Brown have personalities as distinct as the students reading, solving, and mingling in them. While some are socialites and partiers, some are stress-filled and anxiety-inducing, and others are just plain lazy. So if you're a freshman looking for the best places to crack open a book, look no further. By comparing them to celebrities, this post will obviously tell you everything you need to know about the campus's various study spaces.
Sci Li stacks: 2007 Britney Spears
This one is obvious. If you find yourself in the Sci Li stacks, you're probably on the verge of stress-shaving your head. I honestly don't know why anyone would go to the Sci Li unless you have five exams and a paper due the next day. This place gives me major anxiety.
Okay, I'm being hyperbolic, but only a little. The stacks are a sad, sad place.
If you can get one of the closed study rooms in the Sci Li basement (you can reserve one of those room for 3 hours max. with the Sci-Li staff at the Help Desk in the basement!), or if you're a fan of the study spaces scattered throughout the building, maybe you'll like the Sci-Li more than I do – but, seriously, beware of the Sci-Li.
The Rock: Dwayne "The Rock" Johnson
The Rock is an easy choice because of its variety of study spaces. You can do group work in the "coffee shop" area in the first floor lobby, as well as in the many (!) study rooms on the first floor, fourth floor, and level A. Solo work can be done on the first floor in the main area, the stacks, or in the absolute quiet section of level A. The Rock is also superior to the Sci Li because of its chiseled pecks, 8-pack, and biceps.
Andrews Commons Study Rooms: Taylor Swift
Andrews Commons is a place to eat, socialize, and scope out cute athletes. If you say you're going there to study, you're probably lying. But TBH, that's okay because under the T Swift school of thought, any social event is virtually unmissable–and passing up a chance to meet your potential next S.O. is a crime. Just don't go here thinking you're going to get real work done, when you're really just going to drool into your curry over 24-year-old hockey players.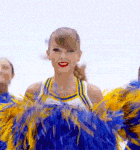 The study room above the dining hall is usually silent (and actually silent! Unlike! Arnold!), but, seriously, it's hard to stay motivated – especially when Andrews is a million miles away from everything and you just wanna go home. If distance from your dorm is what you need to keep you outta home sweet bed, you might want to give Andrews a go.
Arnold Study Lounge: Kim Kardashian
Another study space where hardly any studying gets done is Arnold Lounge. Arnold is ostensibly a silent study space, but no one respects that. This is more like a freshman stomping ground for socializing, meeting friends, and stopping by the vending machines for Vitamin Water chasers (and Ben and Jerry's ice cream!). Like Kim K, Arnold Study Lounge goers are always down to party, so I highly recommend going to Arnold if you want to meet fellow Keeney dwellers, but again, don't go here to do your CS homework or Econ problem sets.
The Blue Room/ Faunce: Miley Cyrus as Hannah Montana
This truly is "the best of both worlds" when it comes to study spaces. Looking to socialize yet also seem like you're getting work done? The Blue Room is the place to go. It's always filled with students eating subpar sushi and pretending to look busy on their laptops while actually taking a Buzzfeed quiz about what flavor latte they would be based on their outfit choices (not that I do this, I just heard some people like that kind of thing).
Have more serious work and need to focus? Faunce usually has open study spaces that are much more quiet suitable for intense studying (like Leung Gallery the floor above the Blue Room, or the study spaces in the basement below the Blue Room).
Your bed: Bruno Mars
If you can actually get work done horizontally, I respect you infinitely. For the rest of us, saying you're going to do work in bed is the equivalent of saying "I'm going to take a long nap, but I don't want to seem lazy." Sometimes, you might even get into your bed thinking you're going to read – or even write a paper. But once you sit in your comfy bed, all motivation goes out the window, and you become about as lazy as Bruno Mars. Your bed is the place to go when you're in the mood for a Netflix marathon, but it's not the best study locale.