College is a bubble, and it is easy to forget how strange this environment really is. That is, until you plunge back into the regular world, either because you've returned home for break or you've passed through the Van Wickle Gates as a college graduate. Think about how strange it is to be constantly surrounded by people within a few years of your age – from when you go to class, to when you eat your meals, to when you go back to your dorm to sleep.
One weekend each year, however, you are sure to see a middle-aged couple perusing wares at the Brown Bookstore, or a middle-school aged child strolling through the Main Green. Welcome to Family Weekend.
Family Weekend is an annual tradition here at Brown, giving families the chance to experience the best of what Brown has to offer for three eventful days. There could be no better time for this event than mid-October, when the leaves are starting to change color and fall to the ground, making Brown an exact rendering of the picturesque New England campus we've all come to love.
The joy of parents, siblings, grandparents, and students reuniting is palpable. Some family members show their affection through bear hugs and embraces, while others show their love by bringing their students countless items to store in their dorm rooms for any possible situation that might arise. Seriously though, the number of suitcases and storage boxes being unloaded from cars parked behind my dorm building was staggering. This, coupled with family members curiously wandering through the dorm hallways and exploring the lounges or common areas, was more than a little reminiscent of move-in day and orientation week.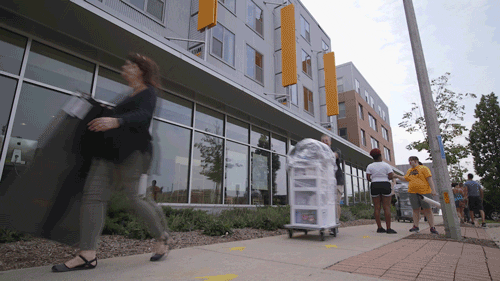 Furthermore, the amount of Brown apparel present on campus during this time increases exponentially. Parents proudly don their Brown University baseball caps or jackets, showing us that school spirit is not as nonexistent as we are led to believe based on a typical weekend on campus. Family Weekend, remember, is no typical weekend.
I have to admit, seeing so many adults eating in the Ratty at once is a bit jarring, but it's undoubtedly sweet that parents are willing to brave the chaos of our dining halls in order to get a sense of what their student's daily life truly encompasses. Music performances are abundant throughout Family Weekend, and they are unsurprisingly some of the most popular events of the weekend, with many ticket lines stretching out the door of the venues.
My family and I attended the jazz band concert and a few a capella concerts, all of which featured incredibly talented musicians. These events were especially endearing because many of the audience members in attendance were clearly family who have travelled from near and far to watch their students perform in their "home away from home."  The enthusiastic cheers, calls of "encore," and alumni returning to the stage to perform with current members were just a few touching moments of these performances.
With the stress of midterm season, assignment deadlines, and a rapidly approaching class registration period, it's easy to forget the aspects of Brown that we have come to love, the same aspects that made us choose to spend four years at this lovely campus (despite the reputation of harsh New England winters). Seeing the joy of family members taking in the stately elegance of Sayles Hall, the constant flurry of activity in Faunce, and even the slightly bizarre (and, dare I say, endearing?) sight of Blueno truly makes me realize how lucky we are to live here and to go to school here. Our family members are the ones who supported us in our decision to come to Brown, and seeing them enjoy their time here is enough to remind us what a wonderful place this truly is. It is clear to see why Family Weekend is such a big deal here at Brown. The memories made during these three days are surely unforgettable, giving students and their families a bit of time to enjoy this beautiful campus and community together.